Rhythm of Handwriting
concise, effective instruction for students of all ages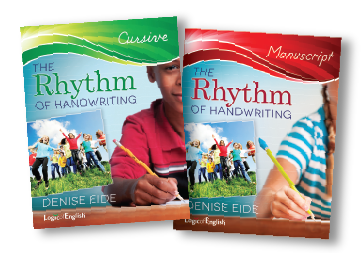 Rhythm of Handwriting
Physical copies of all needed materials.
Can be used over multiple years with only new workbook purchases.
The teacher must be present for a majority of the lessons
Rhythm of Handwriting
Online
PDF copies of all needed materials
Individual stroke videos
Individual letter videos
Individual number videos
Instruction for how to write words
Teacher-directed navigation.
May assign both student and parent-directed lessons.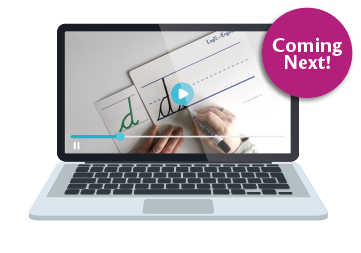 Rhythm of Handwriting
Resources
Blank handwriting paper
Tips
Looking for more details?

Download a detailed comparison chart!
Two Handwriting Styles
Cursive
All lowercase letters begin on the baseline
Uppercase letters only connect to the next letter if they end on the baseline
The capital Q has been simplified to reflect the manuscript version
Letter formation is closely matched to the manuscript font to facilitate ease in transition from one to another
Designed for the human hand
Connected letters solves issues with spacing between letters and words

Manuscript
Most lowercase letters begin on the top line or midline to minimize the number of starting places
Letters are formed with minimal lifting of the pencil
Letters are slightly slanted
Letter formation is closely matched to our cursive style to facilitate ease in transition from one to the other
Teaching Both
Selecting which form of handwriting is best for the student may not always be straightforward. Logic of English suggests teaching cursive first because it requires fewer fine-motor movements and prevents reversals. However, systematic instruction is provided for both cursive and manuscript for increased student success.
The innovative

Rhythm of Handwriting

curriculum uses a multi-sensory approach that helps students develop fluid, legible handwriting.
Questions? Visit our Help Center!