Essentials 1-7 + Reader Online
Explore, teach, and improve phonics skills with Denise Eide! Designed to lead you and your students through the core content.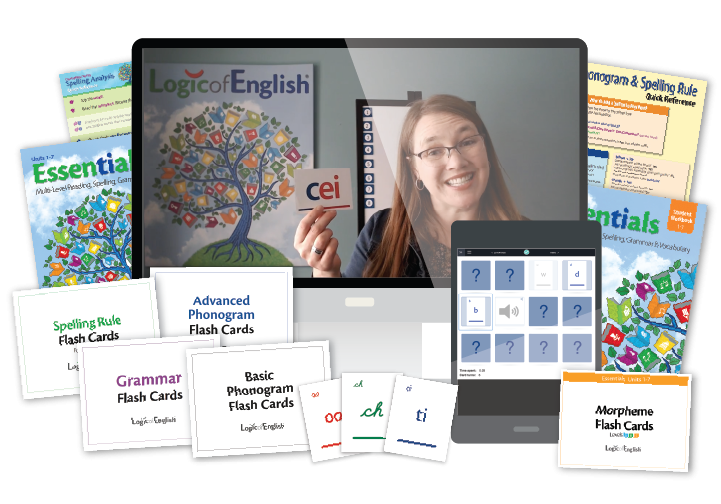 What you are going to learn
Units 1-7
This course is for students ages 8 to adult who want to learn and improve phonics, spelling, grammar, and vocabulary skills. This course combines the digital content of the
Essentials 1-7 Student Course
and PDF copies of all materials found in our
printed set
to allow for maximum flexibility and options to fit your needs.
Phonogram Introduction Videos
Phonogram videos teach all the sounds of the A-Z phonograms and 18 additional multi-letter phonograms.
Phonogram Flash Card Practice
Basic Phonogram Flash Cards help practice mastery of sounds as new phonograms are added.
Spelling Analysis Videos
Analyze the spelling of 210 words while learning 12 spelling rules, including vital concepts such as schwa and long vowels at the end of the syllable.
Digital Games
Phonogram Memory, Phonogram Drag & Drop, Crossword Puzzles, Word Sorts, and more!
Interactive Video
Lessons
Interactive core lesson video content imitates the teacher-student dialogue for increased student engagement.
The Essentials Reader
Texts designed for older students and struggling readers. As they gain decoding skills, the texts rapidly grow in complexity, providing an engaging reading experience.
Spelling, Vocabulary, & Grammar Activities
Exploring morphemes, identifying parts of speech, and additional dictation practice.
Print-Friendly
PDFs
Single-user licensed PDFs of the materials for this volume.
This multi-level language arts program helps teachers differentiate instruction for all students, from struggling to advanced.
Scroll right to see the content included in each module. Click any activity in the modules marked
free
to preview.
Denise Eide
Founder and President, Logic of English
About
My interest in teaching reading and spelling began when my twin sons struggled to learn how to read. Through my research to help them, I realized that my previous training in how to teach reading was inadequate. As I learned and taught the phonograms and spelling rules, I understood the implications to all students learning to read and spell, and I wanted to make a difference. I started the company, Logic of English®, wrote
Uncovering the Logic of English,
and began developing curriculum and presentations to share what I have learned with others.
Welcome to Logic of English eLearning
To learn how to preview our courses, click the video below.